Information Side bar
Traffic

---

Total Url's
:
84
Today's Surf
:
226
Banner

---

Total Banners
:
46
Today's Shows
:
456
Yesterdays Shows
:
419
Text

---

Total Adverts
:
26
Today's Shows
:
3150
Yesterdays Shows
:
3084
Average Shows
:
5400
Exchange News
This Traffic Exchange is NOT an Internet Investment Businesses or Paid to surf site. We will not ask you to invest any money and will not pay you interest on any money you send us. When you purchase goods or services here, there will be no form of "investment" in that payment. The entire purchase price will be for the selected goods or service only!

Admin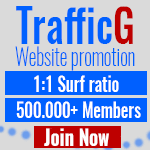 Advertise Your Banner Here. $5.00 Week. Five More Slots Available. Contact Admin Inside.

Cookie Policy


Need your details again?
To recover your details login into your account leaving the password field blank.
Your recovery email will then be emailed to you.

This is the easiest way to recover your verification/login details.