Information Side bar
Traffic

---

Total Url's
:
84
Today's Surf
:
226
Banner

---

Total Banners
:
46
Today's Shows
:
460
Yesterdays Shows
:
419
Text

---

Total Adverts
:
26
Today's Shows
:
3154
Yesterdays Shows
:
3084
Average Shows
:
5400
Exchange News
This Traffic Exchange is NOT an Internet Investment Businesses or Paid to surf site. We will not ask you to invest any money and will not pay you interest on any money you send us. When you purchase goods or services here, there will be no form of "investment" in that payment. The entire purchase price will be for the selected goods or service only!

Admin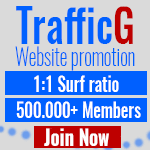 Advertise Your Banner Here. $5.00 Week. Five More Slots Available. Contact Admin Inside.

Cookie Policy
Your Profile Information
We never rent, sell or provide your information to a third party.
We Respect your privacy, and we DO NOT like or send any Spam messages!
Please be aware, bounced emails and auto responders will terminate
any account on this site!


Notes: Fields in this color are required. By creating an account you an account you confirm you are over 16 years of age and agree to our terms and conditions.
---
User Agreement and Privacy Statement - Please read and agree to the information below. The user agreement and privacy statement are designed to protect and inform you of your rights within the FantasySurf.xyz service.

User Agreement


Privacy Statement